Your Hospital Bag Checklist
Your Hospital Bag Checklist For Labour and After
Follow the checklist below in this article and you'll have the ideal hospital bag. There's no need to take too much either, your stay should be quite short.
What Should I Put In My Hospital Bag?
For labour
Your birth plan
Hospital notes (if you have them)
Loose change for snacks
Nightie, dressing gown, cosy socks and slippers.
Contact lenses and spare glasses (if you have them)
Magazines or iPod
A watch with a second hand to time your contractions.
Hair tie/band (if you've got long hair)
Water spray (for cooling yourself down during labour)
Your small beauty bag for toiletries e.g. toothbrush, toothpaste, soap or shower gel, and shampoo
Lip balm
A camera and/or video camera (check with the hospital whether they are allowed or not)
A towel and 2 cloths (some hospitals will provide these)
Cereal bars or dried fruit for an energy boost
Frozen drinks - They'll defrost during a long labour
After labour
Hot water bottle (for pain relief)
Massage oil (for pain relief)
Eye mask, if you have trouble sleeping with the lights on
Maxi sanitary pads
Nursing bras and breast pads
A v-shaped pillow (can help make baby feeding more comfy)
Essentials for your baby, including nappies, blanket, socks, vest, and something that goes on easily and doesn't really need to be tugged over their head
A laundry bag
Lots of change or phone cards to make calls if they don't let you use mobiles in the hospital
Comfy clothes and flat shoes to go home in
ID card and house registration (some hospitals may provide service of issuing the birth certificate)
​​​​​
Disclaimer: All content on this Website is provided solely for informational purposes and is not intended as a substitute for medical and/or other professional advice for your specific condition. Please do not disregard medical and/or other professional advice or delay seeking it because of something you have read on this Website. Always seek medical advice before starting any new treatments.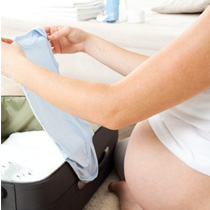 Ask Our Careline
Whatever's on your mind, we're here to help
Mom's Testimonials
Mothers in Singapore place greater confidence and trust in the Dumex Dugro® brand that they choose.