Dumex Mamil Gold Stage 3: For children aged 1-3 years
Dumex Mamil Gold Stage 3: For children aged 1-3 years
It is never too early to start playing with your little one, as children begin exploring and relating to people around them in their first year alone (1). More than fun and games, playtime with your child helps them develop emotionally, socially, cognitively, and physically (2).
The first three years of your child's life is a vital stage for brain development and growth (3). Even as your child reaches sensory, communication, and motor milestones like taking their first steps, playtime with you remains important to encourage their healthy development. Some fun and safe games to play with your toddler include:
• playing a game of catch by tossing a soft toy
• letting them run towards you
• clapping hands and doing sing-a-longs can improve your little one in their motor and cognitive skills, not to mention the possibility of nurturing a passion for music in them (4)
• releasing objects into a container with a big opening to nurture their grasp and release motor skills
Nutrients to nurture your growing champion
Equally important for the healthy development of your little one in the first three years of life is to provide them with the right nutrients. A key discovery our team at Dumex made is that the nutritional needs of children vary according to age groups. Meeting the unique nutritional needs based on the stage of growth they are in is vital in ensuring their healthy development.
Depending on their size, age, and activity level, young children require between 1,000 to 1,400 calories a day (5). A key to ensuring that your growing champion receives all the nourishment necessary in the first three years of life is to give your child a balanced diet covering the following food groups:
Fruits and vegetables
A rich source of vitamins, minerals, antioxidants, and fibre, fruits and vegetables supply your child with essential nutrients that not only promotes good health but strengthens their immune system (6). Studies have also shown that greens and fruits help protect children against chronic diseases in later life (7).

Include a variety of finely chopped vegetables and beans to ensure that your child has the nourishment they need. Some essentials from this food group include:

• Legumes like chickpeas are rich in zinc
• Carrots supply vitamin A
• Spinach leaves are rich in folate and vitamin E
Whole grains
Aside from promoting general nutrient intake, wholegrains like oats, cereal, and whole meal bread are a source of fibre and folate for young children (8). Adding slices or a mush of soft fruits like banana to cereal porridge is a scrumptious way to combine fruits and whole grains in a meal for your child.
Milk or dairy foods
Milk and dairy support a healthy and balanced diet by providing a good source of calcium for healthy bones and teeth, among other benefits. Milk formulas like the Dumex Mamil Gold Stage 3 help supplement the nutritional needs of your growing child.
Dumex Mamil Gold Stage 3: All that your growing child needs
Considering the variety of nutrients a growing child needs, the preparation and attention required to ensure that your little one receives all the necessary nourishment might be daunting. Milk formulas like the Dumex Mamil Gold Stage 3 can help parents as they are designed to support a toddler's nutrition in early childhood.
Part of the Dumex Mamil Gold range, Dumex Mamil Gold Stage 3 is a nutrient-packed formula designed to support the nutritional needs of children aged one to three years old. This milk formula includes the following nutrients:
• DHA, Omega 3 and 6
With DHA as high as 75mg per 100g, Dumex Mamil Gold sees that your child receives enough essential fatty acids for healthy brain and eyes development. The formula also contains omega 3 (alpha-linolenic acid - ALA) and omega 6 (linoleic acid - LA) as precursors of both DHA and ARA.
• Prebiotics for a happy tummy

The unique prebiotic blend in Dumex Mamil Gold milk comprises of GOS (galacto-oligosaccharides) and lcFOS (long chain fructo-oligosaccharides) in a 9 to 1 ratio, an optimal combination which supports your child's natural defences on top of promoting a healthy digestive system. (9)
• Calcium and Vitamin D to help support strong bones and teeth growth. (10)
• Vitamin E that acts as an antioxidant to help protect cells in the body. (11)
• Zinc which stimulates physical development.(12)
With milk sourced from Europe and New Zealand, Dumex Mamil Gold Stage 3 contains nourishing goodness to support your growing child. Get your free sample or visit https://www.dumex.com.sg/products for more information.
References:
1. Healthlink British Columbia (2016). Your Child's Development from Birth to 3 Years. Retrieved May 24, 2020, from https://www.healthlinkbc.ca/healthlinkbc-files/child-development-birth-3-years
2. Ginsburg, K. R. (2007). The Importance of Play in Promoting Healthy Child Development and Maintaining Strong Parent-Child Bonds. Pediatrics, 119(1), 182-191. Retrieved May 22, 2020, from https://doi.org/10.1542/peds.2006-2697
3. Centre for Disease Control & Prevention (2020). Early Brain Development, Retrieved May 24, 2020, from https://www.cdc.gov/ncbddd/childdevelopment/positiveparenting/infants.html
4. Winston, R. & Chicot, R. (2016). The Importance of Early Bonding on the Long-Term Mental Health and Resilience of Children. London Journal of Primary Care, 8(1), 12-14. https://www.ncbi.nlm.nih.gov/pmc/articles/PMC5330336/
5. Ward, E. M. (2011). What and How Much to Feed Your Toddler. WebMD. Retrieved May 24, 2020, from https://www.webmd.com/parenting/features/what-and-how-much-to-feed-your-toddler#1
6. Griffin, R. G. (2013). Immunity-Boosting Snacks for Kids. WebMD. Retrieved May 24, 2020, from https://www.webmd.com/parenting/features/immune-system#1
7. Boeing, H., Bechthold, A., Bub, A., Ellinger, S., Haller, D., Kroke, A., Leschik-Bonnet, E., Müller, M. J., Oberritter, H., Schulze, M., Stehle, P., & Watzl, B. (2012). Critical review: vegetables and fruit in the prevention of chronic diseases. European journal of nutrition, 51(6), 637–663. https://doi.org/10.1007/s00394-012-0380-y
8. Housseini, S. H., et al. (2019). Consumption Patterns of Grain-Based Foods among Children and Adolescents in Canada: Evidence from Canadian Community Health Survey-Nutrition 2015. Nutrients, 11(3), 623. Retrieved May 22, 2020, from https://www.ncbi.nlm.nih.gov/pmc/articles/PMC6471334/
9. Moreno MA, Furtner F, Rivara FP. (2012). Vitamin D and Bone Health. Arch Pediatr Adolesc Med. 2012;166(7):684.
10. Arslanoglu et al. 2008. Journal of Nutrition, 138.1091-1095.
11. Gavin, M. L. (2014). Vitamins. KidsHealth. Retrieved May 26, 2020, from https://kidshealth.org/en/kids/vitamin.html
12. WebMD (2002). Zinc Helps Kids Grow. Retrieved May 25, 2020, from https://www.webmd.com/children/news/20020524/zinc-helps-kids-grow#1
​​​ ​​​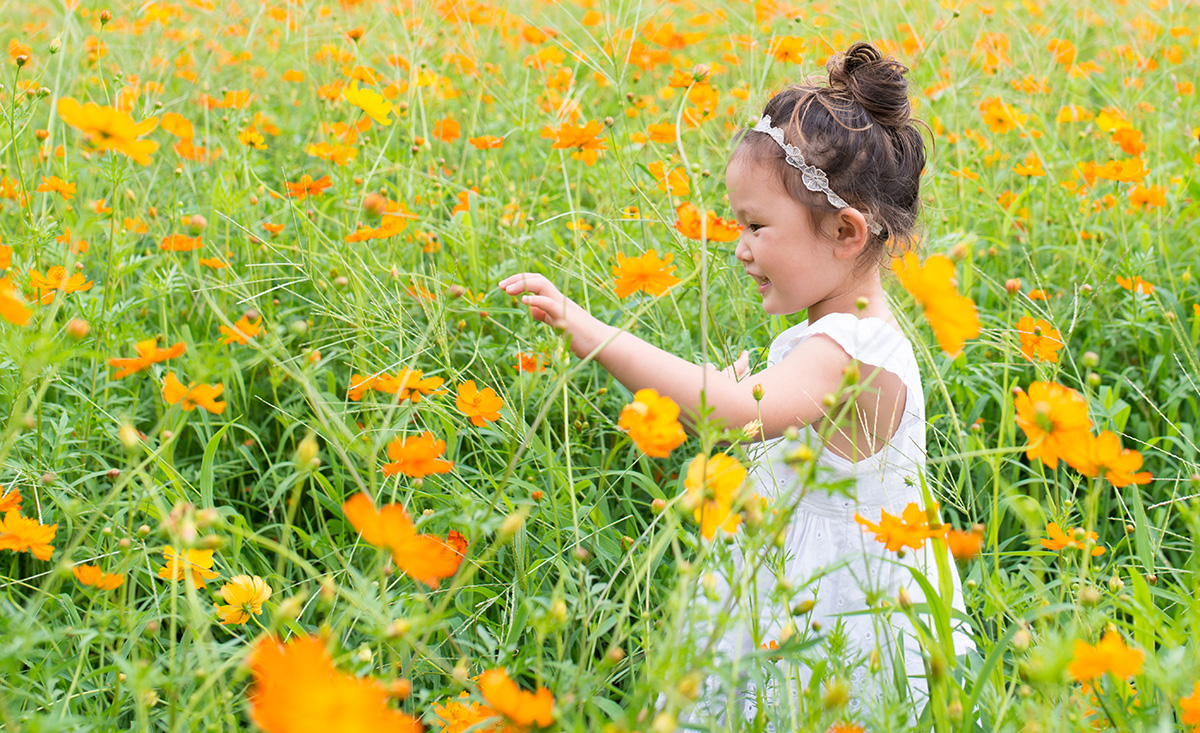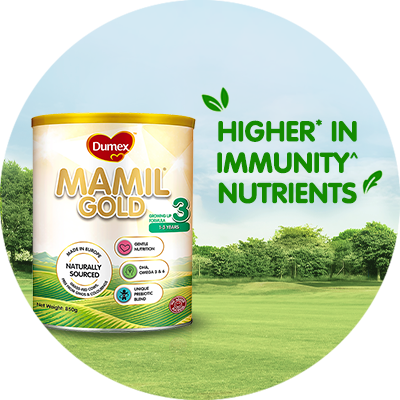 FREE Dumex Mamil® Gold Stage 3
Higher* in Immunity^ Nutrients
DHA as high as 75mg per 100g>
Naturally Sourced. No GMO and colourings
FREE Dumex Dugro® Stage 3
Higher* DHA & Calcim
As low as $1
Sucrose Free
Ask Our Careline
Whatever's on your mind, we're here to help