Triple Chocolate Brownies
Triple Chocolate Brownies
No-added-salt Vegetarian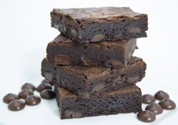 Ingredients
150 g unsalted butter, plus extra for greasing
200 g plain chocolate, chopped
175 g caster sugar
1 tsp vanilla extract
3 large eggs
75 g plain flour, sifted
100 g white chocolate, cut into 5mm-1cm chunks
100 g milk chocolate, cut into 5mm-1cm chunks
Cocoa powder, for dusting
Stove or oven method:
Preheat the oven to 160°C/fan 140°C/gas 3.
Grease and line the based and 2 sides of a 20 cm square cake tin with 1 piece of baking paper (this makes the brownie easy to lift out of the cake tin).
Place the chocolate and butter in a large heatproof bowl set over a pan of gently simmering water (don't let the bowl touch the water) and heat, stirring occasionally, until melted. Remove the bowl from the pan and cool slightly.
Using electric beaters, beat the caster sugar and vanilla into the chocolate mixture.
Whisk in the eggs, 1 at a time, until the mixture is well combined.
Then, add the sifted plain flour and beat until the mixture is smooth. Stir in the white and milk chocolate chunks.
Pour the mixture into the lined tin and bake in the oven for 30 minutes or until a skewer inserted into the centre of the brownie comes out with a few moist crumbs.
Allow to cool completely in the tin before removing the brownie from the tin using the paper as handles. Cut into 20 squares and serve dusted with cocoa powder.
Tips:
This baked chocolate treat is a favourite among kids and adults. The trick is to use good quality dark chocolate with at least 68% cocoa.​​
Ask Our Careline
Whatever's on your mind, we're here to help