Baby Pumpkin Soup
Baby Healthy Pumpkin Soup Recipe
Gluten-free No-added-salt Vegetarian No-added-egg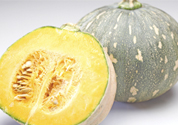 Ingredients
1/4 cup mashed pumpkin
1/4 – 1/2 cup cooking water (from boiled pumpkin)
15g (3 tsp) baby rice cereal
1 tbsp cream
Stove or oven method:
Cut pumpkin into cubes (about 1/2 cup) and boil till soft. Reserve cooking water.
Drain and mash with a fork through a sieve or puree in a blender.
Add 1/4 cup cooking water to the mashed pumpkin and mix in baby rice cereal. Please vary the consistency according to your baby's ability to handle solids. You can further thin down the soup with more cooking water, breast milk/formula or warm water.
Add cream and mix until smooth. Makes 2 serves (about 100ml each).
Store excess in the chiller section of the refrigerator for not more than 24 hours.
Warm in a hot water bath or microwave on low making sure that the soup is stirred well to prevent formation of hot pockets. Always check temperature before putting in baby's mouth.
Tips:
Weaning babies who have already tried rice cereal with no adverse effects and are not allergic to cow milk will enjoy this yummy and creamy soup.​​
Ask Our Careline
Whatever's on your mind, we're here to help