Chicken Purée with Carrots & Apples
Chicken Purée with Carrots & Apples
Gluten-free No-added-salt Dairy-free No-added-egg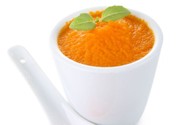 Ingredients
1/2 tbsp olive oil
1/2 small onion, peeled and chopped
350 g carrots, peeled and sliced
250 ml unsalted chicken stock or use water with a bay leaf
1 chicken breast (approx. 125 g)
1 small apple, cored, peeled and chopped
Stove or oven method:
Heat the olive oil in a saucepan and saute the onion till softened.
Add the sliced carrots, pour over the chicken stock or water and bay leaf and bring to the boil. Reduce the heat, then cover and cook for 10 minutes.
Cut the chicken into pieces and add to the carrots together with the chopped apple, and continue to cook for 10 minutes. Remove the bay leaf if necessary.
Blend into a puree and then spoon some of the purée into your baby's bowl and serve lukewarm.
Freeze the remainder in individual portions.
Tips:
Here's a tasty way to introduce your baby to chicken. Carrots and the apple lend a sweetness to the meal that your baby will love!
Fresh puréed homemade baby food should not be stored longer than 48 hours in the refrigerator to be safe.​​
Ask Our Careline
Whatever's on your mind, we're here to help