Pure Soya Milk
Homemade Pure Soya Milk Recipe
Asian Gluten-free No-added-salt Vegetarian No-added-egg Dairy-free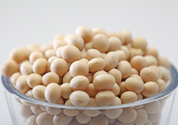 Ingredients
300 g Soya Beans (try using organic ones and non-GMO grains)
8-10 leaves of pandan leaves
3 litres of clean tap water
Desired amount of rock sugar
Stove or oven method:
Prep your soya beans by soaking the beans in clean tap water overnight to soften them.
The next day, drain the soaked soya beans and rinse.
Wash the pandan leaves thoroughly. Slit or cut each leaf at the centre into 2 halves. Using a handful of leaves each time, bundle them up into knots.
Fill your food processor up to 3/4 full with the beans.
Pour the water into the blender until the jug is about 3/4 full.
Start blending for about 40-50 seconds.
Pour out the blended milk into a metal pot lined with a filter or sift. Then pour more clean water into the blender's jug, this time filling it to about 1/3 full. Blend the soya pulp for another 10-15 seconds. Pour out the milk and throw away the pulp.
Repeat until all the beans are blended. Sift all the milk in the pot one more time.
Boil the sifted milk at medium heat, adding in the bundled pandan leaves.
Once the milk starts to bubble, lower the heat to low and continue to brew for about 20 minutes till the pandan leaves turn yellowish.
Add rock sugar to taste, then serve warm.
Tips:
Soya Milk can be refrigerated for up to one week after it has been cooled to room temperature.​​
Ask Our Careline
Whatever's on your mind, we're here to help
Mom's Testimonials
Mothers in Singapore place greater confidence and trust in the Dumex Dugro® brand that they choose.