Tomato and Sweet Potato Cheese
Tomato and Sweet Potato Cheese
Gluten-free No-added-salt Vegetarian No-added-egg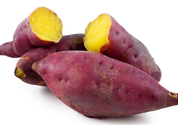 Ingredients
1 onion, chopped
1 clove garlic, crushed
1 x 400 g can of chopped tomatoes (low or unsalted)
600 ml of unsalted vegetable stock or water
1/2 tsp sugar
150 g carrots, peeled and sliced
250 g sweet potato, peeled and chopped
55 g cheddar cheese, grated
2 tbsp single cream or milk
Stove or oven method:
Heat the oil in a saucepan and sauté the onion in a saucepan for about 4 minutes until softened.
Add the garlic and sauté for 1 more minute.
Stir in the sweet potato and carrots, then pour in the tomatoes and boiling vegetable stock or water.
Bring to the boil, stirring often, then cover the pan and simmer for about 30 minutes until the vegetables are tender.
Allow to cool slightly, then blend the sauce to a purée and stir in the cheese until melted.
Store any remaining portions (without cheese) in the refrigerator for no longer than 48 hours.
Tips:
Cook some baby pasta separately and mix with the sauce.
This sauce is great on its own or paired with pastas, vegetables or fish.​​
Ask Our Careline
Whatever's on your mind, we're here to help