Baked Bean Chicken with Tomatoes and Potatoes
Baked Bean Chicken with Vegetables Recipe
Gluten-free No-added-salt No-added-egg Dairy-free
Ingredients
1/2 onion, chopped
50 g chicken breast meat (cut into small chunks, marinated with light soya sauce, sugar and corn flour)
3-4 cherry tomatoes, cut into half
1 can of baked beans (125g)
1 potato, cubed
Seasoning:
2 tbsp tomato ketchup
Dash of salt and sugar
Water
Stove or oven method:
Heat up wok with oil. Stir fry chicken lightly. Dish up and set aside.
Sautee onion until transparent.
Add in potatoes and water. Cover with lid and cook for a while.
Open lid and add in tomatoes, baked beans and seasonings. Mix well, cover with lid and cook with medium heat for a while.
Add in chicken and mix well. Serve.​​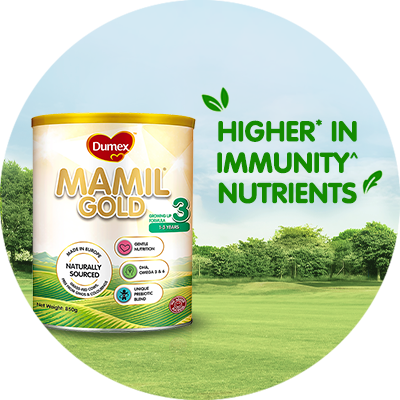 FREE Dumex Mamil® Gold Stage 3
Higher* in Immunity^ Nutrients
DHA as high as 75mg per 100g>
Naturally Sourced. No GMO and colourings
FREE Dumex Dugro® Stage 3
Higher* DHA & Calcim
As low as $1
Sucrose Free
Ask Our Careline
Whatever's on your mind, we're here to help