Bolognese Sauce
Easy Homemade Bolognese Sauce Recipe
Gluten-free No-added-salt No-added-egg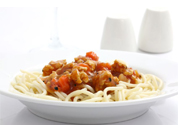 Ingredients
240 g minced meat or beef (Vegetarians can substitute with fresh mushrooms)
60 g fresh mushrooms, chopped
1 medium size onion, minced
2 cloves garlic, chopped
1 tin diced tomato (412 g)
1 tsp dried basil leaves or mixed Italian dried herbs
Seasoning:
2 tbsp tomato paste
1 tbsp tomato ketchup
1 tbsp sugar
2 pieces of bay leaves (optional)
200 ml stock
Dash of ground black pepper
Pinch of salt
Cornstarch solution for thickening (mix 1 tsp corn flour with 1 tbsp water)
Stove or oven method:
Heat up a saucepan with oil.
Sauté onion, garlic and dried basil until fragrant and onion become translucent.
Add in minced meat/ beef and stir-fry until it is cooked.
Add in chopped mushrooms and stir-fry until the mushrooms turn soft.
Add in diced tomatoes, tomato paste, tomato ketchup, stock and bay leaves and stir well. Bring to a boil and simmer under low heat for 30 minutes. During the last 10 minutes, simmer with lid half cover.
Stir occasionally to prevent it from catching the bottom of the pot.
Add in sugar, black pepper and salt. Thicken with cornstarch solution.
Tips:
Leftovers can be freezed for later usage.
This classic sauce is rich in iron from the minced beef and antioxidants from tomatoes and is highly versatile. Eat it with pasta, on pizza or baked eggplants for a hearty lunch.​​​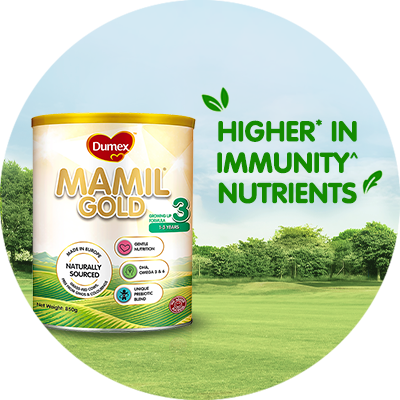 FREE Dumex Mamil® Gold Stage 3
Higher* in Immunity^ Nutrients
DHA as high as 75mg per 100g>
Naturally Sourced. No GMO and colourings
FREE Dumex Dugro® Stage 3
Higher* DHA & Calcim
As low as $1
Sucrose Free
Ask Our Careline
Whatever's on your mind, we're here to help