Braised Shiitake Mushroom Noodles Recipe
Braised Shiitake Mushroom Noodles Recipe
Gluten-free No-added-salt No-added-egg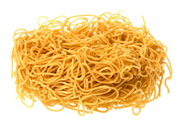 Ingredients
1 bundle of fresh yellow noodles
1/4 cup carrots
1/2 beansprouts
6 dried Shitake mushrooms
1 tsp soy sauce
1 tsp oyster sauce
1 tsp sugar
1 tsp vinegar
1 clove garlic
1 small shallot
2 tsp canola oil
Stove or oven method:
Soak mushrooms in hot water. When soft, slice and set aside. Reserve mushroom water.
Boil yellow noodles, rinse with water and set aside.
Boil carrots and when cooked, add beansprouts and turn off heat. When beansprouts are cooked, drain and set aside. Reserve cooking water. Depending on your child's preference, you may choose to cook these vegetables till soft or have them slightly crunchy.
Fry diced shallots and garlic in oil. Add sliced mushroom, and fry for 2 minutes. Add mushroom water, cooking water from vegetables, soysauce, oyster sauce, sugar and vinegar. Braise till liquid becomes a rich gravy.
Drain mushrooms from gravy. Toss noodles in gravy.
Arrange mushrooms and vegetables on top and serve either on its own or with a meat accompaniment.
Tips:
Shitake mushrooms make this dish a good source of nucleotides. A meat accompaniment such as an omelette, grilled chicken drumettes, and fish fingers would make this a well balanced meal. You may also add some minced meat to the braised mushroom while cooking.​​
FREE Dumex Dugro® Stage 3
Higher* DHA & Calcim
As low as $1
Sucrose Free
Ask Our Careline
Whatever's on your mind, we're here to help