Bread Omelette
Bread Omelette Breakfast Recipe
No-added-salt Vegetarian
Ingredients
slice white toasted bread (or 2/3 cup soft white bread crumbs)
2 tbsp standard milk
1 egg
¼ cup grated cheese
1 tspn butter or margarine
*makes 1 loaf or 12 slices
Stove or oven method:
Trim off bread crusts. Chop bread in food processor to make fine crumbs.
Beat egg with milk. Stir in breadcrumbs.
Melt butter in a small, non-stick omelette pan (base 15 cm) on low heat. Pour in egg mixture, spreading it evenly.
Cook gently on low for a few minutes. Fold in half and cook for a few more seconds, then turn on to a plate.
Cool a little then serve.
Tips:
You can cut the bread omelette into finger food strips.
An easy breakfast meal or snack to fuel your toddler's day.​​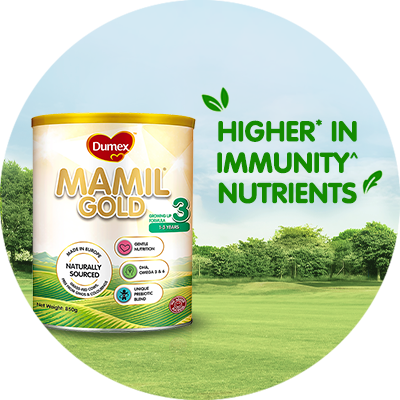 FREE Dumex Mamil® Gold Stage 3
Higher* in Immunity^ Nutrients
DHA as high as 75mg per 100g>
Naturally Sourced. No GMO and colourings
FREE Dumex Dugro® Stage 3
Higher* DHA & Calcim
As low as $1
Sucrose Free
Ask Our Careline
Whatever's on your mind, we're here to help