Broccoli Bow Tie Pasta
Vegetarian Broccoli Bow Tie Pasta Recipe
Gluten-free No-added-salt Vegetarian No-added-egg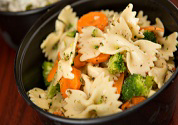 Ingredients
90 g bow tie pasta (farfalle)
100 g broccoli florets (about 1/2 head)
Optional 15 g pine nuts, toasted by lightly tossing over medium heat
Optional 5 g freshly grated Parmesan cheese
Seasoning:
2 tsp butter (about 10g)
2 tsp extra light virgin olive oil
2/3 tsp garlic (minced)
1/2 tsp grated lemon zest/ 1 tsp heapful julienned and minced lemon zest
1 tbsp lemon juice
Dash of salt and freshly ground black pepper
Stove or oven method:
In a large pot of boiling salted water, cook the broccoli florets for 3 minutes. Do not overcook it. Remove the broccoli with a slotted spoon or sieve. Place in a large bowl and set aside.
In the same water, cook the bow tie pasta according to the package instructions. Drain well and add to the broccoli.
Meanwhile, in a small saute pan or skillet, heat the butter and olive oil until the butter is melted. Add garlic and lemon zest. Cook over medium low heat for 1 minute. Off the heat, add salt, pepper and lemon juice.
Pour the sauce over the pasta and broccoli. Toss well and season to taste (with extra salt and pepper).
Divide the pasta between 2 shallow bowls. Serve warm. Sprinkle Parmesan cheese and optional pine nuts just before eating.
Tips:
Broccoli is rich in Vitamins C and A, Calcium and Iron. This hassle-free recipe makes a refreshing alternative to cream or tomato sauce based pasta. You can also add some cooked chicken, shrimp bacon, ham or sausage.​​​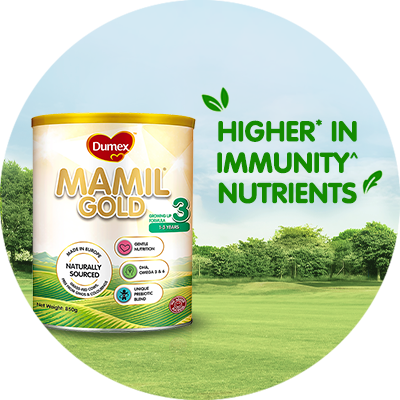 FREE Dumex Mamil® Gold Stage 3
Higher* in Immunity^ Nutrients
DHA as high as 75mg per 100g>
Naturally Sourced. No GMO and colourings
FREE Dumex Dugro® Stage 3
Higher* DHA & Calcim
As low as $1
Sucrose Free
Ask Our Careline
Whatever's on your mind, we're here to help