Chicken Macaroni Combo
Chicken Macaroni Combo Recipe
Gluten-free No-added-salt No-added-egg
Ingredients
1/2 medium chicken breast
10 fishballs
1 medium carrot
250 g celery
2 large potatoes
300 g macaroni (bioled)
2 tbsp minced garlic
3 tbsp minced shallots
1 tbsp curry powder - optional
1 tsp salt
1 tsp sugar
2 tbsp cooking oil
Stove or oven method:
Remove skin of potatoes and cut into cubes; steam until soft and set aside.
Boil macaroni in a saucepan of water and some salt, until cooked. Drain and set aside.
In a wok, heat oil, saute minced garlic and shallots until golden brown and fragrant.
Add curry powder, chicken, fishballs, carrot, celery, potato and macaroni and a little water. Simmer for 10 minutes or until chicken is cooked.
Add salt and sugar. Mix well.
Serve.
Tips:
Your child will enjoy this all-in-one, tasty and nutritious dish. It can be eaten hot or cold, making it a superb lunch meal that can be packed for school or a picnic.​​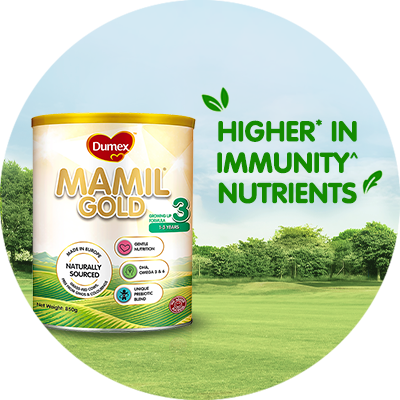 FREE Dumex Mamil® Gold Stage 3
Higher* in Immunity^ Nutrients
DHA as high as 75mg per 100g>
Naturally Sourced. No GMO and colourings
FREE Dumex Dugro® Stage 3
Higher* DHA & Calcim
As low as $1
Sucrose Free
Ask Our Careline
Whatever's on your mind, we're here to help