Chicken Pickup Sticks
Chicken Pickup Sticks Recipe
No-added-salt Dairy-free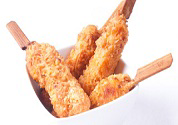 Ingredients
450 g chicken breast, cubed
1 small onion, minced
1 tbsp of parsley chopped
1 large McIntosh apple grated
2 tbsp grated parmesan cheese
½ cup of flour
1 beaten egg
2 tbp of bread crumbs
Vegetable oil for frying.
Seasoning:
Put the first 5 ingredients into a blender for a few seconds until blended well.
Remove mixture and form into long log shaped rolls about 3 inches long each.
Roll each log in the flour, then dip in egg and bread crumbs.
Heat vegetable oil in frying pan until hot. Add chicken sticks to oil and cook on low heat for 15 minutes or until cooked through. Turn occasionally so all sides are brown.
Stove or oven method:
Heat up a saucepan with oil.
Sauté onion, garlic and dried basil until fragrant and onion become translucent.
Add in minced meat/ beef and stir-fry until it is cooked.
Add in chopped mushrooms and stir-fry until the mushrooms turn soft.
Add in diced tomatoes, tomato paste, tomato ketchup, stock and bay leaves and stir well. Bring to a boil and simmer under low heat for 30 minutes. During the last 10 minutes, simmer with lid half cover.
Stir occasionally to prevent it from catching the bottom of the pot.
Add in sugar, black pepper and salt. Thicken with cornstarch solution.
Tips:
This recipe is designed to encourage your little one to eat on her own.​​​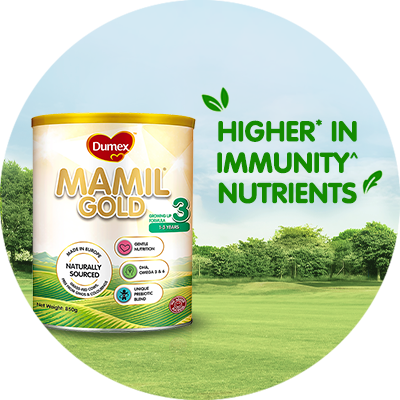 FREE Dumex Mamil® Gold Stage 3
Higher* in Immunity^ Nutrients
DHA as high as 75mg per 100g>
Naturally Sourced. No GMO and colourings
FREE Dumex Dugro® Stage 3
Higher* DHA & Calcim
As low as $1
Sucrose Free
Ask Our Careline
Whatever's on your mind, we're here to help