Cream of Mushroom Soup
Cream of Mushroom Soup Recipe
No-added-salt Vegetarian No-added-egg
Ingredients
25 g margarine
15g plain flour
600 ml milk or toddler's usual formula
1 vegetable stock cube
110 g mushrooms, finely chopped
15 ml tbsp fresh chopped parsley
Pinch of pepper to taste
*makes 4 servings
Seasoning:
2 tbsp tomato paste
1 tbsp tomato ketchup
1 tbsp sugar
2 pieces of bay leaves (optional)
200 ml stock
Dash of ground black pepper
Pinch of salt
Cornstarch solution for thickening (mix 1 tsp corn flour with 1 tbsp water)
Stove or oven method:
Place all ingredients except parsley into a pan.
Whisk continuously over a moderate heat. Bring to gentle boil while whisking continuously.
Cover and simmer for 10 minutes. Taste and season.
Remove from heat.
Add parsley, purée and serve.
Tips:
This recipe is suitable for freezing. Simply defrost and heat as required.​​​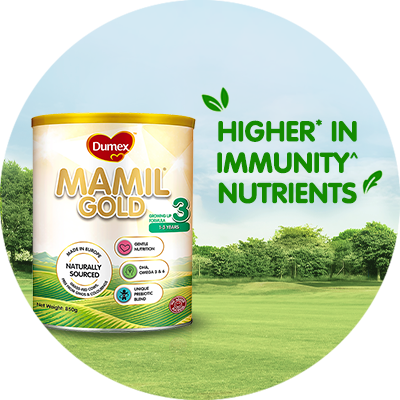 FREE Dumex Mamil® Gold Stage 3
Higher* in Immunity^ Nutrients
DHA as high as 75mg per 100g>
Naturally Sourced. No GMO and colourings
FREE Dumex Dugro® Stage 3
Higher* DHA & Calcim
As low as $1
Sucrose Free
Ask Our Careline
Whatever's on your mind, we're here to help