Easy Wonton Dumplings
Easy Wonton Dumplings Recipe
No-added-egg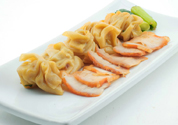 Ingredients
220 g ground pork or chicken
2 spring onions, finely sliced
1½ tsp soy sauce
¼ tsp white pepper
1 egg, beaten
½ tsp sesame oil (optional)
Store bought square wonton wrappers
Dipping Sauce:
2 tsp soy sauce
¼ tsp sugar
½ tsp rice wine vinegar (optional)
Stove or oven method:
Mix the minced meat with the spring onions, soy sauce, white pepper, sesame oil and half of the beaten egg. Reserve the rest of the egg for sealing the dumplings.
Combine the ingredients for the dipping sauce.
Arrange several wonton wrappers with corners facing you and place ½ a tablespoon worth of meat mixture in the center of each wrapper.
Use your fingers to brush the edges with the beaten egg. Fold the wrapper in half and seal them to form little triangular parcels. Repeat till meat mixture is used up.
Steam for 5-6 minutes. Grease the steamer basket with cooking oil if using a metal steamer.
OR
Alternatively, you can cook the dumplings in boiling water for about 3 minutes.
You can serve or choose to pan-fry the cooked dumplings in a little oil, 2-3 minutes on each side.
Serve warm with dipping sauce.
Tips:
If your toddler is old enough, get him to help you beat the egg, brush the egg wash over the dumplings or even fold them into little triangles for some fun in the kitchen.​​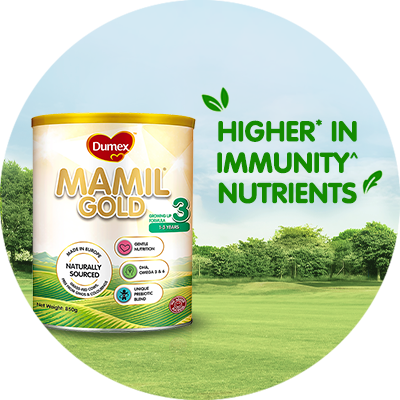 FREE Dumex Mamil® Gold Stage 3
Higher* in Immunity^ Nutrients
DHA as high as 75mg per 100g>
Naturally Sourced. No GMO and colourings
FREE Dumex Dugro® Stage 3
Higher* DHA & Calcim
As low as $1
Sucrose Free
Ask Our Careline
Whatever's on your mind, we're here to help