Fruity Chicken Curry
Easy Fruity Chicken Curry Recipe
No-added-salt No-added-egg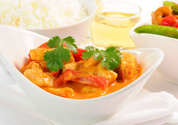 Ingredients
Dash of sunflower oil
2 slices of onion, finely chopped
Hint of crushed garlic
Pinch of chilli powder
Sprinkle of chopped coriander
Generous pinch of cumin, ground coriander, garam masala and turmeric
1 cup of cooked rice
A few chunks of chicken breast
Squirt of tomato purée
Small cauliflower florets
Handful of sultanas
¾ to 1 cup of whole milk (vary to desired consistency)
1 tbsp natural yoghurt
Optional: 1 tsp cornflour
Stove or oven method:
Pour a dash of sunflower oil into a saucepan and add onions. Add crushed garlic, chilli powder, and a generous pinch of ground cumin, ground coriander, garam masala and turmeric to the saucepan.
Add the chunks of chicken, a large squirt of tomato puree, cauliflower, a small handful of sultanas and the milk, and simmer for about 10 minutes until tender.
Add the cup of cooked rice and simmer for about 5 minutes or until the everything is cooked through.
If the mixture is too runny, mix cornflour with a splash of cold water and add to the saucepan whilst stirring.
Serve warm with a spoonful of natural yogurt.
Tips:
Indian spices give fragrance and flavour to this wonderful Asian dish.​​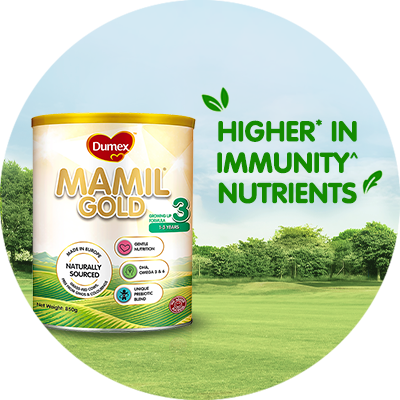 FREE Dumex Mamil® Gold Stage 3
Higher* in Immunity^ Nutrients
DHA as high as 75mg per 100g>
Naturally Sourced. No GMO and colourings
FREE Dumex Dugro® Stage 3
Higher* DHA & Calcim
As low as $1
Sucrose Free
Ask Our Careline
Whatever's on your mind, we're here to help