Jungle Pasta
Easy Jungle Pasta Recipe
No-added-salt No-added-egg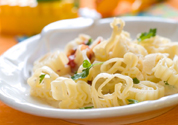 Ingredients
300 g animal pasta shapes
1 small onion, finely chopped
1 crushed clove of garlic
Some olive oil
1 can of chopped tomatoes
A squirt of tomato puree
A sprinkle of chopped fresh (or dried) basil
Dash of pepper
Half a head of broccoli, chopped into small florets
25 g butter
1 tbsp flour
450 ml milk
2 cups of grated cheddar cheese
Stove or oven method:
Boil the pasta following packet instructions until just tender.
Soften the onion and garlic in a splash of olive oil. Then add the can of tomatoes, tomato puree, basil and a dash of pepper. Let this simmer gently for about 10 minutes.
Meanwhile, steam the broccoli until just tender. Add them to the tomato sauce mix and take off the heat.
Melt the butter and add the flour and mix together for two minutes. Then gradually add the milk, stirring continuously. Once all the milk has been added and it's simmering, take it off the heat and add half the cheese.
Mix the pasta and tomato sauce and pour into an ovenproof dish. Top with cheese sauce, then sprinkle the remaining cheese on top and bake for about 20 minutes until melted.
Serve warm.
Tips:
Animal shaped pasta introduces a fun element to meals and this recipe makes a large volume which can be frozen into child-sized portions.​​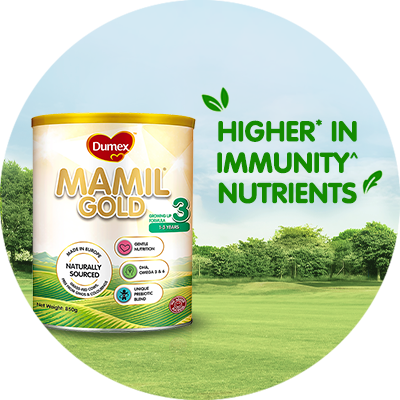 FREE Dumex Mamil® Gold Stage 3
Higher* in Immunity^ Nutrients
DHA as high as 75mg per 100g>
Naturally Sourced. No GMO and colourings
FREE Dumex Dugro® Stage 3
Higher* DHA & Calcim
As low as $1
Sucrose Free
Ask Our Careline
Whatever's on your mind, we're here to help