Kailan and Avocado Salad
Kailan and Avocado Salad Recipe
Gluten-free No-added-salt No-added-egg Vegetarian
Ingredients
1 bunch of kailan
1 medium avocado
1 tsp of salt
2 tbsp of olive oil
1 tbsp of lemon juice
Stove or oven method:
Place the kailan, lemon juice, salt and olive oil in a bowl and toss to combine. The leaves will become soft and tender when combined with the lemon juice and oil.
Add the remaining ingredients and using your hands (or a spoon), stir to combine and mash the avocado into chunks.
Serve.
Tips:
Kale, or 'Kailan' as the leafy vegetable is called in Chinese, is highly nutritious. Paired with creamy avocados in this salad recipe, you get a nutrition-packed snack or side dish that kids will love.​​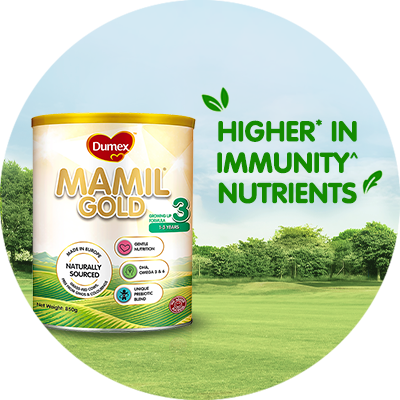 FREE Dumex Mamil® Gold Stage 3
Higher* in Immunity^ Nutrients
DHA as high as 75mg per 100g>
Naturally Sourced. No GMO and colourings
FREE Dumex Dugro® Stage 3
Higher* DHA & Calcim
As low as $1
Sucrose Free
Ask Our Careline
Whatever's on your mind, we're here to help