Krispy Cheese Biscuits
Krispy Cheese Biscuits
No-added-salt Vegetarian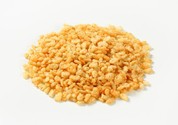 Ingredients
1 cup flour
100 g butter
100 g tasty cheese or 1 cup grated cheese
1 cup rice krispies
Optional: Poppy seeds
Stove or oven method:
Preheat oven to 150ºC. Line a baking tray with baking paper.
Butter should be cold and firm.
Food processor method:
Into a food processor put flour, diced cheese and butter. Blend until evenly crumbly and beginning to gather into a dough.
Tip into a bowl and mix in the rice krispies. Knead into a ball.
Hand-mix method:
Put flour into a bowl. Grate in the butter then the cheese.
Using your fingers, rub the butter and cheese into the flour until evenly and finely blended.
Mix in rice krispies then knead well to a firm dough.
Both methods:
Shape into small balls (walnut-size) and place on the lined tray. Flatten each ball with a fork.
Optional: sprinkle each with poppy seeds.
Fan Bake at 150ºC for 15 to 20 minutes.
Cool on a wire rack and store in an air-tight container.

Tips:
These savoury biscuits are quickly mixed in a food processor but can be mixed by hand. Rice krispies give the crunch and the poppy seeds on top are optional.​​
Ask Our Careline
Whatever's on your mind, we're here to help