Mini Pizza Faces
Mini Pizza Faces Recipe
Dairy-free No-added-salt No-added-egg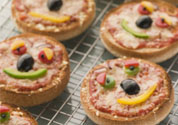 Ingredients
4 small pita bread rounds
Pizza Toppings
1/2 cup canned tomato paste
1/2 small red, yellow and green capsicums (sliced thinly)
1 small can pineapple rings (in water, drained)
1 small can tuna (in water, drained)
Button mushrooms (sliced thinly)
Black olives (pitted, sliced)
Grated mozzarella cheese
Cherry tomatoes, halved
Broccoli & cauliflower, cut into small florets
Stove or oven method:
Help your child spread each pita bread round with tomato paste using a pastry brush or bread knife.
Decorate the pita bread rounds with the ingredients, e.g. mushrooms for nose, red capsicum slices for mouth, mozzarella cheese and broccoli for hair, tuna for eyes, cherry tomatoes for cheeks, etc. to make four different but cute and funny faces.
Arrange the mini pizzas on a baking tray. Bake them for 10 minutes or until golden brown in colour and the cheese has melted. Remove from the oven.
Serve with a glass of milk.
Tips:
This is a wonderful way of increasing your child's interest in vegetables and getting him to taste and even enjoy them. Vegetables are good sources of vitamins and minerals.​​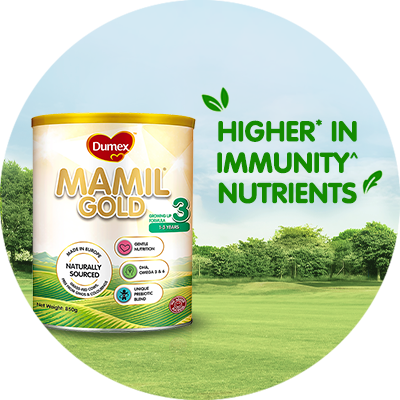 FREE Dumex Mamil® Gold Stage 3
Higher* in Immunity^ Nutrients
DHA as high as 75mg per 100g>
Naturally Sourced. No GMO and colourings
FREE Dumex Dugro® Stage 3
Higher* DHA & Calcim
As low as $1
Sucrose Free
Ask Our Careline
Whatever's on your mind, we're here to help