Prawn and Mince Patties
Prawn and Mince Patties Recipe
Gluten-free No-added-salt
Ingredients
100 g prawns, peeled, deveined, chopped into small chunks
120 g minced meat
40 g carrot, chopped
80 g waterchessnut, chopped
2 eggs, lightly beaten
Seasoning:
1 1/2 tbsp oyster sauce
1 tsp soya sauce
1 1/2 tsp sugar
1 tbsp cooking oil
Dash of sesame oil & pepper
2 tsp cornflour
Handful of spring onions
Stove or oven method:
Combine all ingredients and seasonings (except for eggs) in a mixing bowl. Stir in 1 direction until well combined.
Cover the bowl with clip wrap and refrigerate for at least 1 hour.
Remove from the fridge, add in beaten eggs and stir well.
Heat up oil in a frying pan under medium heat. When hot, use a laddle to scoop up the mixture and make small batters on the frying pan. Make a few batches. Cook for 3 mins or until golden brown. Turn the patties over and cook for another 2 mins or until golden brown.
Dish up and place on a kitchen towel to absorb any excess oil. Serve hot.​​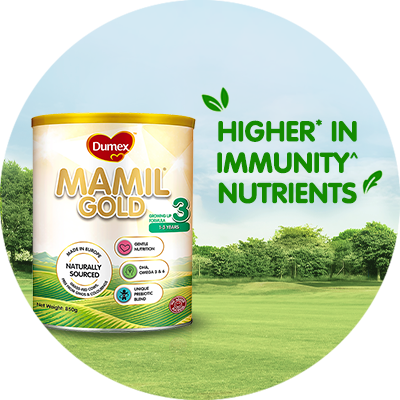 FREE Dumex Mamil® Gold Stage 3
Higher* in Immunity^ Nutrients
DHA as high as 75mg per 100g>
Naturally Sourced. No GMO and colourings
FREE Dumex Dugro® Stage 3
Higher* DHA & Calcim
As low as $1
Sucrose Free
Ask Our Careline
Whatever's on your mind, we're here to help