Pumpkin Pancakes
Easy Pumpkin Pancakes Recipe
Vegetarian
Ingredients
2 cups self-raising flour
1/2 teaspoon salt
1/2 cup raisins
1 tsp cinnamon
1 tsp nutmeg
2 eggs
1 3/4 cups milk
4 tbsp corn/soybean/sunflower oil
1/2 cup cooked and mashed pumpkin
Stove or oven method:
In a large mixing bowl, sift together the flour, salt, cinnamon and nutmeg. Stir in the raisins.
In another bowl, whisk the eggs and and milk. Add 3 tablespoons of oil and pumpkin and mix well.
Pour the wet mixture into the dry ingredients and stir until well blended.
Using a non-stick frying pan, heat one tablespoon of oil over medium to high heat. Spoon batter into the hot frying pan. Cook for a few minutes until the pancakes bubble on top. Flip the pancakes over and cook until both sides are golden brown in colour.
Remove from frying pan, cool and serve with some sliced fresh fruits, e.g. bananas, mangoes, strawberries, papaya or apples.
Tips:
Serve with fresh slices of fruit to the whole family on a Sunday morning!​​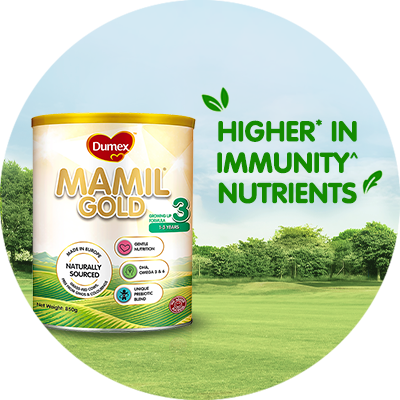 FREE Dumex Mamil® Gold Stage 3
Higher* in Immunity^ Nutrients
DHA as high as 75mg per 100g>
Naturally Sourced. No GMO and colourings
FREE Dumex Dugro® Stage 3
Higher* DHA & Calcim
As low as $1
Sucrose Free
Ask Our Careline
Whatever's on your mind, we're here to help