Roasted Carrot Coins
Oven Roasted Carrots Recipe
Gluten-free No-added-salt No-added-egg Vegetarian
Ingredients
4 medium carrots, peeled and cut into coins (about 2 cups)
1/4 tsp paprika
1 tbsp olive oil
1/4 Tsp salt
*makes 4 servings
Stove or oven method:
Preheat oven to 200°C (400 F)
Place all of the ingredients on a baking sheet and toss to combine.
Roast for 30 minutes.
Serve.
Tips:
Roasting carrots make them sweet from caramelization, bright orange and delicous. Cutting them into coin shapes also make them extra attractive to little ones.​​​​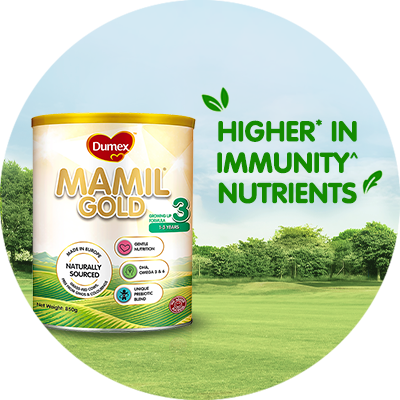 FREE Dumex Mamil® Gold Stage 3
Higher* in Immunity^ Nutrients
DHA as high as 75mg per 100g>
Naturally Sourced. No GMO and colourings
FREE Dumex Dugro® Stage 3
Higher* DHA & Calcim
As low as $1
Sucrose Free
Ask Our Careline
Whatever's on your mind, we're here to help