Strawberry Yoghurt Crunch
Strawberry Yoghurt Dessert Recipe
Gluten-free No-added-salt No-added-egg Vegetarian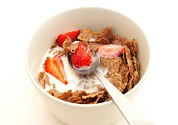 Ingredients
150 g strawberries (about 6-8 medium sized)
4 tbsp fresh orange juice
50 g whole oats
3 tbsp sunflower seeds
3 tbsp pumpkin seeds
2-3 tbsp clear running honey
8 tbsp thick natural bio yoghurt
*makes 2-3 servings
Stove or oven method:
Cut the green stalks and leaves from the strawberries and then thickly slice the fruit. Put the strawberries in a bowl and add the orange juice. Set aside.
Put the oats in a frying pan and dry fry over a medium-low heat for 3 minutes.
Turn the oats occasionally with a wooden spoon to make sure they cook evenly.
Add the sunflower and pumpkin seeds and dry fry for another 2 minutes or until light golden. Take care – the pumpkin seeds may pop a little!
Take the pan off the heat. Stir in the honey – it will sizzle at first but keep stirring until the oats and seeds are coated. Allow to cool slightly.
Put a layer of the oats in the bottom of each glass. Add 2 heaped dessert spoonfuls of yoghurt and then some of the fruit. Add another layer of each.
Tips:
This dessert or breakfast parfait layers fruit, yoghurt and nuts, making it especially pretty and nutritious at the same time.​​​​​​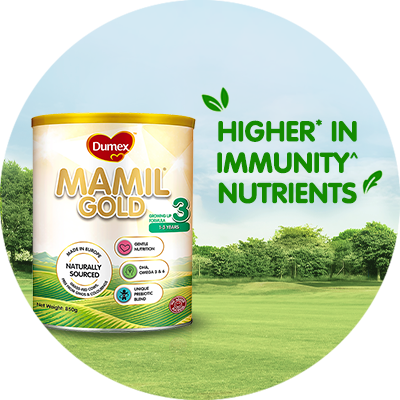 FREE Dumex Mamil® Gold Stage 3
Higher* in Immunity^ Nutrients
DHA as high as 75mg per 100g>
Naturally Sourced. No GMO and colourings
FREE Dumex Dugro® Stage 3
Higher* DHA & Calcim
As low as $1
Sucrose Free
Ask Our Careline
Whatever's on your mind, we're here to help