Thai Vermicelli Salad
Thai Vermicelli Salad Recipe
Gluten-free No-added-salt No-added-egg Dairy-free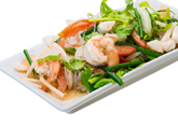 Ingredients
250 g vermicelli, soaked, boiled and drained
20 fishballs, cut into small pieces
70 g dried prawns, cut into small pieces
75 g shallots, chopped finely
1 clove garlic, chopped finely
2 tbsp oil
Vegetable garnishes
1 medium carrot, sliced thinly
1 large onion, sliced thinly
1 red pepper, cut into thin strips
1 yellow or green pepper - cut into thin strips
1/2 medium lettuce, sliced thinly
3 - 4 stalks of cilantro
Chinese parsley or spring onion, cut into 1 cm pieces
Seasoning:
70 ml lime juice
6 tsp sugar
1 1/2 tsp salt
2 tbsp fish sauce
Topping:
80 g peanuts (roasted and ground)
Stove or oven method:
In a non-stick wok, heat oil. Add chopped shallots and garlic and fry until fragrant. Set aside.
Add dried prawns and fishballs; fry for 1-2 minutes. Add friend shallots and garlic and mix well. Turn off the fire.
Add drained vermicelli, followed by the vegetable garnishes and seasonings. Mix well.
Top with ground peanuts and serve immediately. Alternatively, chill it in the refrigerator for a refreshing cool treat.
Tips:
Your child will love this popular sweet and sour Thai salad that can be served either hot or cold. Peppers or Capsicums are rich in vitamin C, beta-carotene, lutein, B-vitamins and other essential nutrients. They also contain capsaicin, a powerful compound that besides giving peppers the 'bite', also functions as an antioxedant and pain-reliever.​​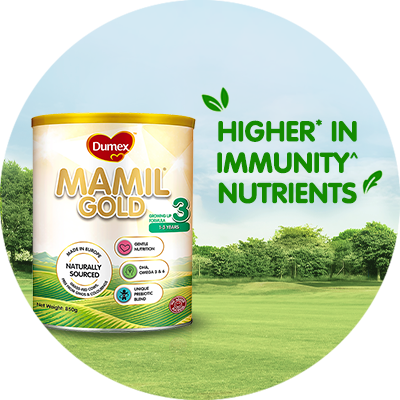 FREE Dumex Mamil® Gold Stage 3
Higher* in Immunity^ Nutrients
DHA as high as 75mg per 100g>
Naturally Sourced. No GMO and colourings
FREE Dumex Dugro® Stage 3
Higher* DHA & Calcim
As low as $1
Sucrose Free
Ask Our Careline
Whatever's on your mind, we're here to help