Yam Rice
Yam Rice Recipe
Gluten-free No-added-salt No-added-egg Vegetarian
Dairy-free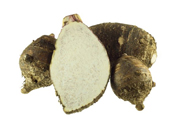 Ingredients
110 g rice, rinsed and soaked for 15 minutes
200 g yam (cut into 1cm x 1cm cube, rinsed and patted-dry, pre-fried until lightly brown)
80 g vegetarian cubed ham (you can substitute with pork or chicken)
5 fresh medium size shiitake mushroom, washed with running water, blanched over hot water and sliced thinly
35 g dried shrimp, washed, pre-soaked for 15 minutes (retain water for cooking later)
5 shallots, sliced thinly
4 tbsp oils
Spring onions (for garnishing)
Seasoning:
1 1/2 tbsp light soya sauce
1 tbsp dark soya sauce
1 tsp salt
1 tsp sesame oil
Dash of pepper
Stove or oven method:
Heat up 3 tbsp oil. Fry shallots until golden brown. Dish up and set aside.
Heat up another 1 tbsp oil, add in dried prawns and stir fry under low heat until fragrant.
Push the dried prawns to the side, add in vegetarian cubed ham and stir-fry for a while.
Add in mushroom and stir fry for 2 minutes.
Add in pre-soaked rice, 1/2 of the fried shallots, then followed by seasonings. Stir well until all are evenly coated.
Transfer all the ingredients to a cooking pot, add water until 1 cm above the surface for the rice.
Cook the rice until it is boiling and half-cooked, add in pre-fried yam. Stir well and cover the lid. Continue cooking until it is completely cooked.
For those who cooks using pot or wok, add water to cover the mixture, reduce heat to low, cover and cook slowly, stir occasionally to prevent burning.
Serve rice with a sprinkle with spring onion and fried shallots.
Tips:
This deliscious one-dish meal recipe requires adequate preparation. The trick is to pre-fry the yam cubes. Remember not to wash the yam before peeling off the skin to avoid itches on the hands.​​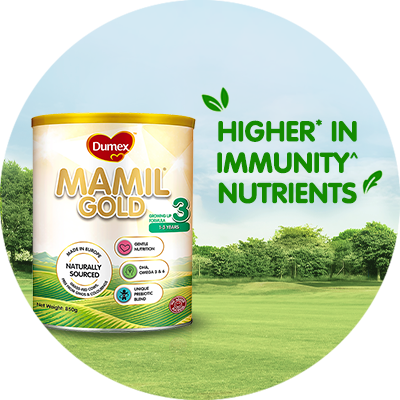 FREE Dumex Mamil® Gold Stage 3
Higher* in Immunity^ Nutrients
DHA as high as 75mg per 100g>
Naturally Sourced. No GMO and colourings
FREE Dumex Dugro® Stage 3
Higher* DHA & Calcim
As low as $1
Sucrose Free
Ask Our Careline
Whatever's on your mind, we're here to help