Yummy Yam Cake
Yummy Yam Cake Recipe
No-added-salt No-added-egg Vegetarian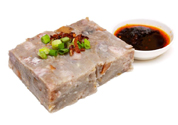 Ingredients
800 g yam, peeled and cut into cubes
600 g rice flour
2 tbsps tapioca flour
50 g dried prawns, washed and chopped
1/2 large lean chicken breast , without skin, cubed and marinated (with 1 tbsp sugar, 1 tbsp sesame oil and 3 tbsp light soy sauce)
8 chinese bowls of water
2 tsp salt
1 tbsp oyster sauce
2 tbsps garlic, minced finely
1 1/2 tbsp corn oil
1 1/2 tsp five spice powder
1 tsp pepper
Toppings:
1 cup spring onions - washed & sliced finely
1 cup peanuts - ground finely
1 cup small onions - sliced finely
Optional: 8 large red chillies - remove seeds and chopped finely
* makes 30 slices, 2 slices per serving
Stove or oven method:
Heat oil in wok over a medium fire and fry sliced onions until golden brown in colour. Remove fried onions and keep aside as topping.
Add garlic, dried prawns and cubed chicken pieces to wok and stir-fry until chicken is cooked.
Add five spice powder, salt, oyster sauce and pepper. Mix well.
Add yam cubes and stir-fry until yam cubes are soft and cooked. Using a ladel, grind yam cubes into a powdery paste.
Turn off the fire. Add water, stir in rice and tapioca flour.
Turn on the fire. Cook mixture until a gluey consistency is achieved.
Dish out mixture into two 9 x 9 inch trays. Steam mixture over a high fire for an hour.
Cool for at least two hours until yam cake hardens.
Slice into about 30 slices per tray. Serve topped with spring onions, peanuts, fried onions and chillies.
Tips:
This savoury snack is also great for parties and get-to-gethers.​​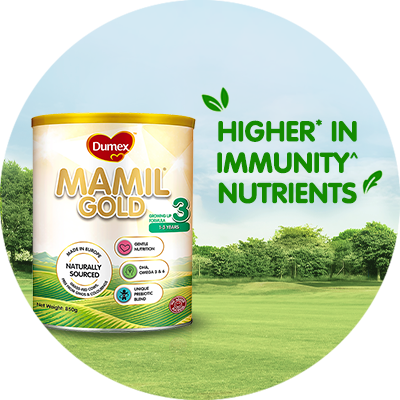 FREE Dumex Mamil® Gold Stage 3
Higher* in Immunity^ Nutrients
DHA as high as 75mg per 100g>
Naturally Sourced. No GMO and colourings
FREE Dumex Dugro® Stage 3
Higher* DHA & Calcim
As low as $1
Sucrose Free
Ask Our Careline
Whatever's on your mind, we're here to help