Family Bonding With Your Toddler
Family Bonding With Your Toddler
Kids grow up fast. Before you know it, they'll be spending more and more time independently from you. Even as the demands of pre-school, work and keeping the house pile up, it is important to make the effort to bond as a family so that every member stays connected and supported.
Here are some great ways to spend time together at home and outside and make some lasting memories:
1. Read
Making reading a routine and involving everyone in the family can be wonderfully de-stressing for adults and highly enjoyable and educational for young ones. Discuss the characters or plots in the stories freely, act out or adapt special voices and include your child's name in the story!
2. Bond over Bedtime
Develop a simple, loving bedtime routine. Common rituals include a swarm bath, a light massage, tooth brushing, toileting or diapering and finally a story or lullaby. This is a time to relax and comfort your toddler while reminding him how much you love him through affectionate gestures and physical interaction. Alternate between each partner so your child forms attachments to both of you.
3. Go to the museum, park, zoo or theme park
Places like these are stimulating for the whole family and even though a fun day out can be tiring, at least your child won't be making a mess at home! Even taking a stroll along local sights or cultural enclaves can make for an informative and educational tour. Don't forget to browse the websites for special events or activities catered just for little ones.
4. Go to the great outdoors
Not all interesting places require a ticketing fee. Explore nature reserves, reservoir parks, the beach or the botanical gardens. And involve your kids in the planning process – allow them to pack their raincoats, sunhats or their favourite snacks for a picnic. And don't forget a rubber ball, Frisbee or kite!
5. Use some imagination
Sometimes all you need is a little creativity to unleash a whole lot of fun. Turn a box into a submarine, a blanket into a magic cape or fill up used bottles and turn them into musical instruments. Snack time can also be playtime if you let the kids have a (supervised) hand in preparing their meals. The possibilities are endless when you can let loose and be silly.
And when your child starts playing pretend, act along with her – whether it's having a tea party, manning a bookstore or fighting the imaginary bad guys, they'll be thrilled to have you in the game with them.
6. Create a Family Language
Make up nicknames for each other as well as for special objects or events in the house. Calling your designated reading chair the ""Magic Chair"" or a shower a ""Power Shower"" or even giving names to your potted plants is a way to bond and create lasting family memories.
7. Surprise Them
An unexpected treat once in a while goes a long way. Make your toddler feel special by letting them choose a toy from the store even though there is no occasion, or take them out for a mini ice cream cone. If you travel, bring a little souvenir back just for them.
And remember, sometimes it's better to follow your child's lead.
As a grown-up, it's easy to get hung up on how a story, craft, activity or game is ""meant to work"". So long as it is safe, try following your child's lead the next time she suggests doing something unconventionally. You might be amazed at the experience and new perspective that awaits for both!
Disclaimer: All content on this Website is provided solely for informational purposes and is not intended as a substitute for medical and/or other professional advice for your specific condition. Please do not disregard medical and/or other professional advice or delay seeking it because of something you have read on this Website. Always seek medical advice before starting any new treatments.​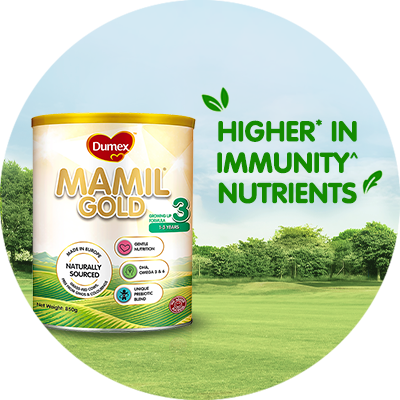 FREE Dumex Mamil® Gold Stage 3
Higher* in Immunity^ Nutrients
DHA as high as 75mg per 100g>
Naturally Sourced. No GMO and colourings
FREE Dumex Dugro® Stage 3
Higher* DHA & Calcim
As low as $1
Sucrose Free
Ask Our Careline
Whatever's on your mind, we're here to help