Top Things To Do Before Getting Pregnant
Top Things To Do Before Getting Pregnant
So you've decided to try for a baby! Congrats! There's a lot to be excited and nervous about. Which is why the best thing you can do – for both you and your baby-to-be – is to prepare well. Here's what you can do now before conception to ensure a healthy and fun road to parenthood:
1. Go off the Pill
Some women take more time to return to full fertility after stopping birth control. To give you some time to monitor your natural menstrual cycle, it is ideal to go off the pill a couple months before planning to conceive. This also makes it more accurate when it comes to calculating your due date.
2. Schedule a Pre-Conception Check Up
See a GP or ob/gyn a few months before trying to get pregnant. This is the time to ask any questions and check you and your partner's medical history, fertility and health. Read more about what you can expect at your pre-pregnancy check up here.
3. See your Dentist
Hormonal changes during pregnancy can make women more prone to gum disease. And research has linked unchecked gum disease to increased risk of miscarriage, preterm birth and preeclampsia. So don't forget to book a visit to the dentist before getting pregnant!
4. Talk, Talk and Talk to Your Spouse
You may both agree on trying for a baby, but how aligned are you and your partner about the big parenting issues like childcare, finances or working versus staying home? Talking about your priorities, expectations, and fears is vital. After all, having a child is a lifetime commitment. And don't worry; it's perfectly fine to change your minds about certain things along the way!
5. Reboot your Health
Alcohol and tobacco have long been linked to fertility and birth problems and so has being under- or over-weight. So there's no better time to scale back on unhealthy habits and keep your weight in check. Now is also the time to hit the gym and eat healthily to prepare your body for the demands of pregnancy and motherhood. Read more pre-conception health and nutrition tips here.
6. Make a Baby Budget
Raising a child isn't cheap and putting aside a little now helps lower the impact of the big bills when baby arrives. Start researching hospital maternity packages and costs of other prenatal and postnatal services. Find out about your workplace's maternity leave and benefits, and update your financial advisor about your plans to start a family.
7. Destress
Stress can delay your ability to get pregnant. So chill out and check in to a nice spa retreat or start that yoga class with your girlfriends. Whether it's napping or watching TV, finding your go-to stress reliever will go a long way as you deal with getting your home and life ready for your baby. If you've been itching to travel, now's the time!
Disclaimer: All content on this Website is provided solely for informational purposes and is not intended as a substitute for medical and/or other professional advice for your specific condition. Please do not disregard medical and/or other professional advice or delay seeking it because of something you have read on this Website. Always seek medical advice before starting any new treatments.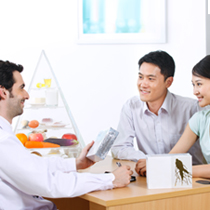 Ask Our Careline
Whatever's on your mind, we're here to help