Asparagus Soup
Cream of Asparagus Soup Recipe
No-added-salt Vegetarian No-added-egg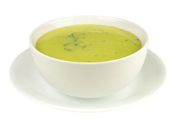 Ingredients
450 g asparagus
25 g butter
1/2 medium onion, finely chopped
1/2 slightly rounded tbsp plain flour
500 ml hot chicken stock (or vegetable stock)
75 ml double cream (like thickening cream)
Salt and freshly grounded black pepper
Stove or oven method:
Slice tips from asparagus. Blanch in salted boiling water for 1 minute. Drain and reserve for garnishing.
Discard the tough, stringy white ends of the stalks. Chop the green parts into 2.5 cm lengths.
Melt butter in a large saucepan over low heat and cook the onion for 5 minutes.
Add in asparagus and sweat for about 10 minutes with lid on. Stir occasionally.
Add in flour and stir again to soak up the juices.
Add in hot chicken stock, a little at a time, stirring after each addition.
Bring it to simmering point, season with salt and black pepper.
Simmer the soup under low heat for 20-25 minutes, partially covered.
Let the soup cool a little and purée in a blender in batches.
Adjust seasoning if necessary.
Stir in cream and re-heat gentlely for 3-4 minutes.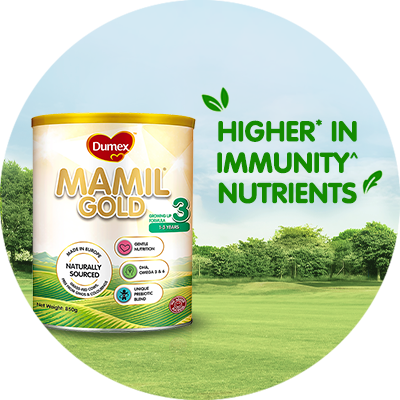 FREE Dumex Mamil® Gold Stage 3
Higher* in Immunity^ Nutrients
DHA as high as 75mg per 100g>
Naturally Sourced. No GMO and colourings
FREE Dumex Dugro® Stage 3
Higher* DHA & Calcim
As low as $1
Sucrose Free
Ask Our Careline
Whatever's on your mind, we're here to help