Introducing the Dumex Range of Products: Mamil Gold and More
Introducing the Dumex Range of Products: Mamil Gold and More
Since Dumex first began in Singapore in 1959, it has gained the trust of mums by helping them nurture their little ones. One of the milestones in helping mums in Singapore nourish their children is the introduction of the new Dumex Mamil Gold range, a selection of milk formula with the right nutrition for young children. A key discovery that led the team of experts at Dumex to develop Dumex Mamil Gold was that the nutritional needs of children changes with age. Meeting the unique nutritional needs based on the stage of growth kids are in is therefore vital in ensuring the healthy development of young children. Using naturally sourced ingredients, Dumex Mamil Gold comes in the following variants:
• Dumex Mamil Gold Stage 3: For children aged 1 to 3 years old
• Dumex Mamil Gold Stage 4: For children aged 3 to 6 years old
• Dumex Mamil Gold Stage 5: For children aged 6 years old and above Every feed in this nutrient-packed range helps provide with the nutrients that your child needs, including:
• DHA in Dumex Mamil Gold Stage 3 supports brain and eyes development.
• A unique prebiotic blend comprises of galacto-oligosaccharides (GOS) and long chain fructo-oligosaccharides (lcFOS) in a 9 to 1 ratio, an optimal combination which supports your child's natural defences1 whilst promoting a healthy digestive system.
• Calcium to help support strong bones and teeth
• Vitamin E that acts as an antioxidant to help protect cells in the body Adding to this nutritious range is Dumex Mamil Mama, a milk formula designed to meet the nutritional needs of expectant and breastfeeding mums. Specially formulated with prebiotics, this milk formula enriches the health of pregnant and young mums with a blend of over 20 vital nutrients.Meeting Every Need: Dumex Mamil Gold Specials Range Soy-based formula is a popular and common alternative for children with lactose intolerance or a cow's milk protein allergy, as it is a good source of calcium and protein4. In fact, soy-based formulas are usually supplemented with amino acids and nutrients to meet a growing child's nutritional needs. Free of lactose, cow's milk protein, and sucrose, the Dumex Mamil Gold Soy Growing Up Formula is catered for lactose-intolerant children or kids with a cow's milk protein sensitivity aged one and above. This nourishing blend features vital nutrients including:
• Soy protein isolate: Acts as an alternative protein source to promote healthy tissue development
• Prebiotics: Supports a healthy gut
• DHA: Key building blocks for brain and eyes development
• Omega 3 (ALA) and Omega 6 (LA): Precursors of DHA and ARA
• Calcium: Helps support the development of strong bones and teeth
• Vitamin D: Encourages calcium absorption and improves bone strength
• Vitamin E: Acts as an antioxidant that helps protect cells
• Zinc: Stimulates physical growthDumex Dugro Range Available in Stage 3, 4, and 5, Dumex Dugro Range is an all-time favourite growing-up milk formula that is trusted by generations of Singaporean mums to nourish their little ones. Formulated with Singapore's Recommended Dietary Allowances in mind, Dumex Dugro contains 360° Nutrition™ – a system of important nutrients to support your child's all-rounded growth and development.Sucrose-free Love for Your Child One of the sugars to watch out for in your child's diet is sucrose or table sugar, as it can be broken down easily into glucose and absorbed directly into the bloodstream7. Too much sucrose is a concern for your child's health for the following reasons:
• It is one of the contributions to childhood obesity, which may lead to unhealthy weight gain in later life.
• It may cause a sharp spike in blood glucose level. This can cause fatigue and irritability.
• It can encourage tooth decay and loss.
• It may trigger cravings for sweet food, a dietary habit that can lead to diabetes If you are wondering where to source a sucrose-free milk formula for your little champ, all Dumex Dugro milk formulas are free from sucrose and taste just as great.Love with the Healthier Choice Every Dumex Dugro feed contains lower levels of sugar and saturated fat compared to regular growing-up milk, offering a healthier choice for your child. Whether you are looking to choose Dumex Mamil Gold, Dumex Mamil Soy Range, or Dumex Dugro, your child's nutritional needs are supported. Get your free sample or visit https://www.dumex.com.sg/products for more information.
References:
1. Arslanoglu et al (2008) J.Nutr 138.1091-5
2. Moreno MA, Furtner F, Rivara FP. (2012). Vitamin D and Bone Health. Arch Pediatr Adolesc Med. 2012;166(7):684.
3. Gavin, M. L. (2014). Vitamins. KidsHealth. Retrieved May 26, 2020, from https://kidshealth.org/en/kids/vitamin.html
4. Porto, A. (2016). Lactose Intolerance in Infants & Children: Parent FAQs. Healthy Children. Retrieved July 2, 2020, from https://www.healthychildren.org/English/healthy-living/nutrition/Pages/Lactose-Intolerance-in-Children.aspx
5. Verduci, E. et al (2019). Cow's Milk Substitutes for Children: Nutritional Aspects of Milk from Different Mammalian Species, Special Formula and Plant-Based Beverages. Nutrients, 11 (8), Retrieved 2 July, 2020, from https://www.ncbi.nlm.nih.gov/pmc/articles/PMC6723250/
6. WebMD (2002). Zinc Helps Kids Grow. Retrieved May 25, 2020, from https://www.webmd.com/children/news/20020524/zinc-helps-kids-grow#1
7. Rippe, J. & Angelopoulos, T. (2013). Sucrose, High-Fructose Corn Syrup, and Fructose, Their Metabolism and Potential Health Effects: What Do We Really Know? Advances in Nutrition, 4 (2). Retrieved July 2, 2020, from https://academic.oup.com/advances/article/4/2/236/4591632 8. Johnston, C. A. & Foreyt, J. P. (2014). Sugar Intake in Children and Adolescents and Its Effects on Health. Retrieved July 2, 2020, from https://www.researchgate.net/publication/300842245_Sugar_Intake_in_Children_and_Adolescents_and_Its_Effects_on_Health/citation/download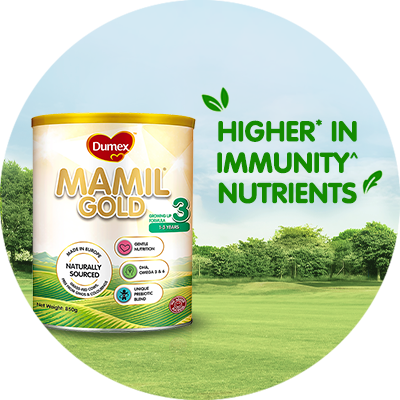 FREE Dumex Mamil® Gold Stage 3
Higher* in Immunity^ Nutrients
DHA as high as 75mg per 100g>
Naturally Sourced. No GMO and colourings
FREE Dumex Dugro® Stage 3
Higher* DHA & Calcim
As low as $1
Sucrose Free
Ask Our Careline
Whatever's on your mind, we're here to help