Give Baby's Developing Brain A Boost
Brain Boosting Meal for Children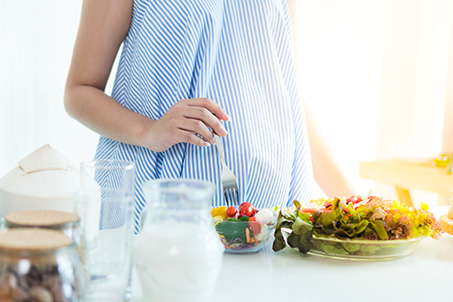 Choline
Choline is a nutrient that is important for cell membranes, and supports overall brain functions. Foods that are rich in choline include shrimp and other seafood (scallops, tuna, cod, wild salmon, sardines), poultry (chicken – especially chicken liver, turkey), beef, pork, egg yolks, milk, peanuts, beans, collard greens, brussel sprouts, swiss chard, cauliflower and spinach.
DHA
DHA is an omega 3 fatty acid, which is primarily involved in the development of the brain, nervous system and retina. The Health Promotion Board recommends that pregnant women consume 2
servings of a variety of fatty fish – preferably options that are lower in mercury. This includes wild salmon, tilapia, codfish, shrimp, catfish and pollock. Furthermore, try to avoid high mercury fish such as shark, king mackerel, tilefish and swordfish.
Iron
Iron supports brain development as well, and there are myriad ways to work iron into your diet! Foods such as red meat, pork, poultry, seafood, beans, dark green leafy vegetables such as spinach, and iron fortified grains such as cereals, breads and pastas, are all rich iron sources. One pro tip for you – Vitamin C helps your body to better absorb iron. Foods that are rich in Vitamin C include broccoli, peppers, melons, kiwi, tomatoes and citrus fruits. Combine iron rich foods with Vitamin C foods for best results!
Meal Ideas
For the busy mom on the go, here are some suggestions for healthy, all-natural meals and snacks that will help you to incorporate choline, DHA and iron into your diet.
Breakfast
Option 1: DHA-egg omelet with spinach, peppers, and optional sprinkle of cheese. Orange slices or grapefruit on the side.
Option 2: Southwestern scramble: DHA eggs scrambled, top with black beans, avocado, and cheddar, wrap in whole grain tortilla; fresh fruit on the side.
Option 3: Whole grain bread with peanut butter (or other nut butter) and choice of fruit
Option 4: Strawberry banana smoothie made with plain Greek yogurt
Option 5: Oatmeal made with milk or milk alternative, fruit (dried, fresh, or frozen), walnuts and/or flax seed
Lunch
Option 1: Salad with spinach, light tuna or walnuts, cheese, peppers, tomatoes, beans; top with your choice of dressing.
Option 2: Turkey sandwich (roasted turkey not deli meat) on whole grain bread or pita, veggies, hummus spread; cup of vegetable soup
Option 3: Black bean and corn salad on whole grain tortillas topped with salsa and sliced avocado
Option 4: Cooked quinoa tossed with mushrooms, bok choy, cauliflower, and a light teriyaki or black bean sauce
Option 5: Lentil salad: cooked lentils, diced tomatoes, chopped carrots, fresh mint and a lemon/olive oil dressing
Dinner
Option 1: Vegetable stir fry (add chicken or fish if desired): brussels sprouts, bok choy, cauliflower, and peppers over brown rice, quinoa, or farro
Option 2: Seared salmon and pesto pasta with a spinach salad
Option 3: Roast chicken, barley, and sautéed green beans
Option 4: Grilled shrimp and veggie skewers, brown rice
Option 5: Whole grain pasta with tomato sauce, broccoli, tuna, beans, anchovies, and/or sardines
Snacks
Option 1: Small cup of plain yogurt with sprinkle of nuts and fruit
Option 2: Fruit and nut bar (look for nuts and fruits as the only ingredients!)
Option 3: Whole grain crackers and peanut or nut butter
Option 4: Cut up veggie sticks and hummus
Option 5: String cheese and piece of fruit
*Pregnant women should eat no more than 6 oz high-mercury fish per week
Ask Our Careline
Whatever's on your mind, we're here to help