Complementary Feeding Is Essential For Development
Complementary Feeding - Introduction To Solid Food Is Essential For Development
Complementary feeding is quite simply the process of switching your baby from a milk-only diet to a one that include other solid food. Parents are recommended to introduce a good balance of solid food after they complete 6 months of age (i.e. 181 days). It's an exciting part of your baby's development and an essential one. Milk will continue to supply many of the nutrients your baby needs for some time, but as your baby becomes more active, solid foods will become an increasingly important part of their healthy, balanced diet.

Complementary feeding your baby is something that can't be done in a hurry – it's a gradual progression where you'll move your baby on from liquid to purées, then onto lumpier textures and finally pieces. It's also quite a messy process
Developing and learning
Complementary feeding isn't just about giving them extra nutrients or filling them up. Around this stage, your baby is extremely adaptable and learns fast. By introducing them to new tastes, textures and the experience of eating from a spoon, feeding becomes a great way to help their development.

The process of complementary feeding is also about getting your baby used to the new and very strange feeling of food in their mouth! Over the next few months as you introduce new tastes and textures, your baby will develop their swallowing and chewing skills. This helps them to develop the muscles they'll use for talking later on.
Be patient
Be prepared to be patient as your baby gets used to the sensation of moving food around in their mouth and learns to chew. The main thing is, not to worry - it can take up to 15 attempts for your baby to accept certain foods!

And remember, we're here to help with guidance and advice if you need it.
Disclaimer: All content on this Website is provided solely for informational purposes and is not intended as a substitute for medical and/or other professional advice for your specific condition. Please do not disregard medical and/or other professional advice or delay seeking it because of something you have read on this Website. Always seek medical advice before starting any new treatments.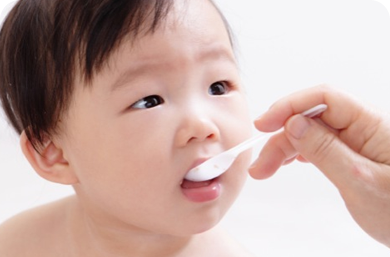 Ask Our Careline
Whatever's on your mind, we're here to help