Is Your Baby Ready For Solid Food?
Is Your Baby Ready For Solid Food?
As your baby grows, they become more active and start to use a lot more energy. Pushing their chest away from floor, rolling over or practising sitting up, all gives them bigger appetite which means it'll soon be time to more onto more them milk. The process of switching a baby from a milk-only diet to a mixed one that includes other solid food is calledcomplementary feeding or weaning. Parents are recommended to introduce a good balance of solid food to their babies after they complete 6 months of age (i.e. 181 days).
Tell-tale complementary feeding signs
After a full milk feed your baby cries or demands more
Your baby finds it harder to wait until the next feed, and becomes irritable or chews their hands
Where they've previously slept through the night, they now wake up for a feed.
Daytime sleep becomes more erratic too - not settling down or waking up early from naps
Your baby looks fascinated when you eat, and perhaps tries to reach for food you're holding
Could it be a growth spurt?
Some babies may go through a growth spurt, which can make them seem a lot hungrier than usual. It's important not to confuse this with the realsigns of complementary feeding though because their digestive system needs time to develop before you introduce solids, however pureed they are! Be patient and if it is a growth spurt, your baby's appetite should go back to normal relatively quickly.
Disclaimer: All content on this Website is provided solely for informational purposes and is not intended as a substitute for medical and/or other professional advice for your specific condition. Please do not disregard medical and/or other professional advice or delay seeking it because of something you have read on this Website. Always seek medical advice before starting any new treatments.​​​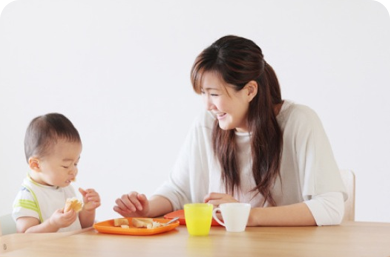 Ask Our Careline
Whatever's on your mind, we're here to help