Dumex Dugro® Growing Up Milk Stage 3
Dumex Dugro® Growing Up Milk Stage 3
Formula Milk for children aged 1–3 years | 700g, 1.6kg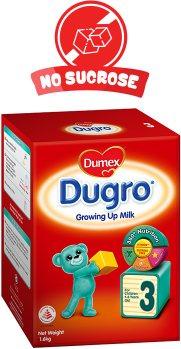 Dumex Dugro® Growing Up Milk Stage 3 is a Sucrose-free and Healthier Choice growing up milk that contains 360° Nutrition™, a combination of important nutrients to support your child's all-rounded growth and development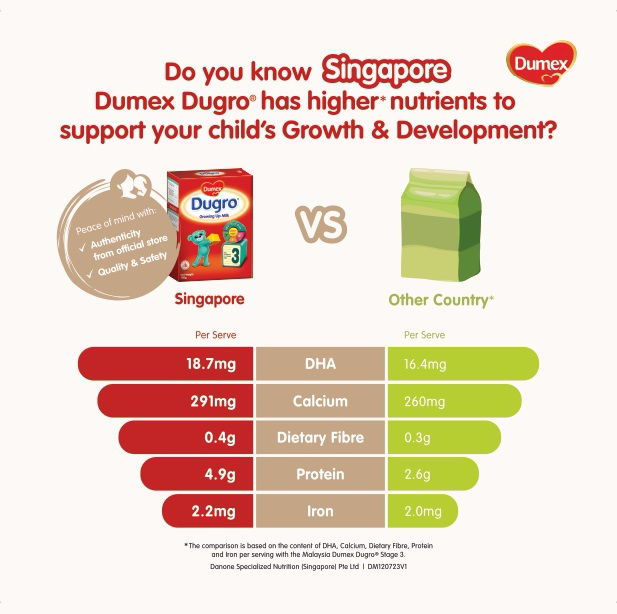 Dads & Mums, do you know?

Singapore Dumex Dugro has higher nutrients*
compared to the other country for your little one's growth and development.
Product Information

Contains DHA, Omega 3 & 6

Iron:
• Contributes to normal cognitive function/development
Vitamin C:
• Contributes to normal functioning of the immune system
Zinc:
• Necessary for normal immune system function

Calcium:
• Helps support development of strong bones and teeth
Vitamin D:
• Helps support calcium absorption and improves bone strength
Dietary Fibre:
• Inulin is a type of dietary fibre
Safety Recommendation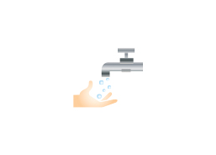 Step 1
Wash your hands thoroughly before preparing the feed.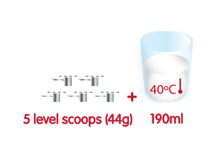 Step 2
Add 5 level scoops (44g) of Dumex Dugro® Growing Up Milk Stage 3 milk powder to one glass (190ml) of boiled lukewarm (40°C) water.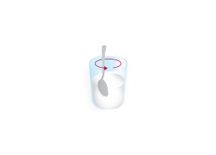 Step 3
Stir well before drinking.
We recommend 3 servings of Dumex Dugro® Growing Up Milk Stage 3 per day.
"I choose Dumex Dugro because it has higher calcium and is sucrose-free!"
Joanna Tan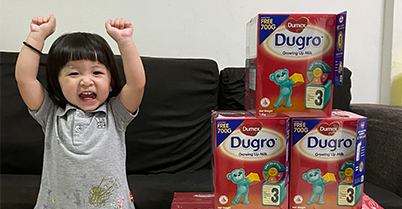 "Dumex Dugro has the comprehensive nutrients needed and contains DHA and Calcium. The price is also the most value saver compared to other brands."
Loh Yun Lu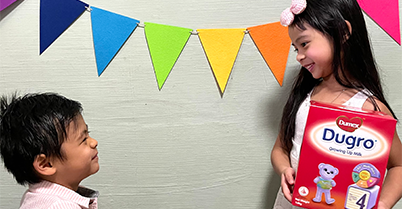 Dumex Dugro, rich in nutrients and sucrose-free, supports my children growth and development."
Hafiza Abdol Rahman
You may be interested in these parenting tips
Other Milk Formula & Powder Products
Dumex Dugro® Range
• Contains 360° Nutrition™ and 15 vitamins and minerals
• More DHA & Higher Calcium - vs other popular formula milk brands sold in Singapore
• Sucrose Free

Different types of milk formulas available suits for different children needs.
Find out more on different range of products that cater to your children..
From toddlers to kids, Dumex has a formula milk for every stage.
Ask Our Careline
Whatever's on your mind, we're here to help