ABC Soup
ABC Soup Recipe
Gluten-free No-added-salt Vegetarian Dairy-free
No-added-egg
Ingredients
380 g salmon fish bones (or lean pork or chicken bones), blanched over boiling water, put into a soup bag
2 large potatoes (about 300-400g), cut into 4 for each potato
2 carrots (about 200g), cut into chunks
1 large sweetcorn (about 360g), cut into chunks
3 tomatoes (about 300g), sliced
3 tomatoes (about 300g), sliced
1 white onion
2 bay leaves
1500 ml water
Salt and pepper to taste
*makes 9-10 servings
Stove or oven method:
Bring water to boil. Add in fish bones, onions, sweetcorns and bay leaves. When the soup re-boils, turn the heat to lower and simmer for 2 hours.
After half an hour, add in potatoes, carrots, celery.
5 mins before turning off the heat, add in tomatoes.
Season with salt and pepper.
Tips
This one-dish meal and soup is wholesome and great for the whole family. Chop the ingredients into smaller pieces for your toddler depending on his preference.​​​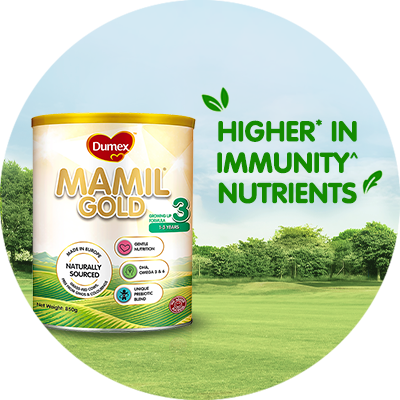 FREE Dumex Mamil® Gold Stage 3
Higher* in Immunity^ Nutrients
DHA as high as 75mg per 100g>
Naturally Sourced. No GMO and colourings
FREE Dumex Dugro® Stage 3
Higher* DHA & Calcim
As low as $1
Sucrose Free
Ask Our Careline
Whatever's on your mind, we're here to help