Banana Raisin Muffins
Healthy Banana Raisin Muffins Recipe
No-added-salt Vegetarian
Ingredients
1 cup self-raising flour
1/2 cup raisins, chopped
1 tbsp corn or soybean oil
1 medium egg
1 medium ripe banana, mashed
1/2 cup milk (reconstitute 7 level scoops growing up milk with 150 mls water)
1/2 tsp cinnamon
1/2 tsp nutmeg
1/4 tsp salt
*makes 8 servings
Stove or oven method:
Sift flour into a mixing bowl. Mix in raisins, salt, cinnamon and nutmeg.
In another bowl, beat egg, oil and milk together. Mix in the mashed banana and stir well.
Gently fold in the flour mixture into the egg mixture until well blended.
Grease a muffin tin. Spoon muffin mixture into muffin tin.
Bake in a preheated 200°C for approximately 20 minutes or until muffins turn golden brown.
Remove from oven and let cool completely.
Serve.
Tips
Chop raisins before adding into mixture to prevent chocking. You can also replace mashed bananas with 1/2 cup of cooked mashed pumpkin.​​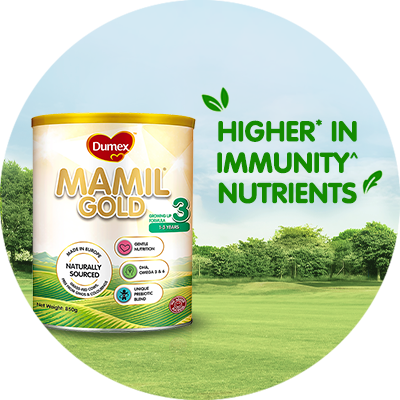 FREE Dumex Mamil® Gold Stage 3
Higher* in Immunity^ Nutrients
DHA as high as 75mg per 100g>
Naturally Sourced. No GMO and colourings
FREE Dumex Dugro® Stage 3
Higher* DHA & Calcim
As low as $1
Sucrose Free
Ask Our Careline
Whatever's on your mind, we're here to help